reduce scarring & heal faster
Faster healing and minimal scarring through wet healing process
Natural Antibiotic & anti-inflammatory
Keep your pets safe from harmful chemicals used in conventional woundcare
HoneyCure can be used on a variety of wounds from small scratches to deep wounds and surgical wounds
the only 100% natural wound healing gel combining essential oils and Manuka honey
HoneyCure is a one-of-a-kind, all-natural hydrogel wound treatment which has been bioengineered to be used by both pet parents and vets.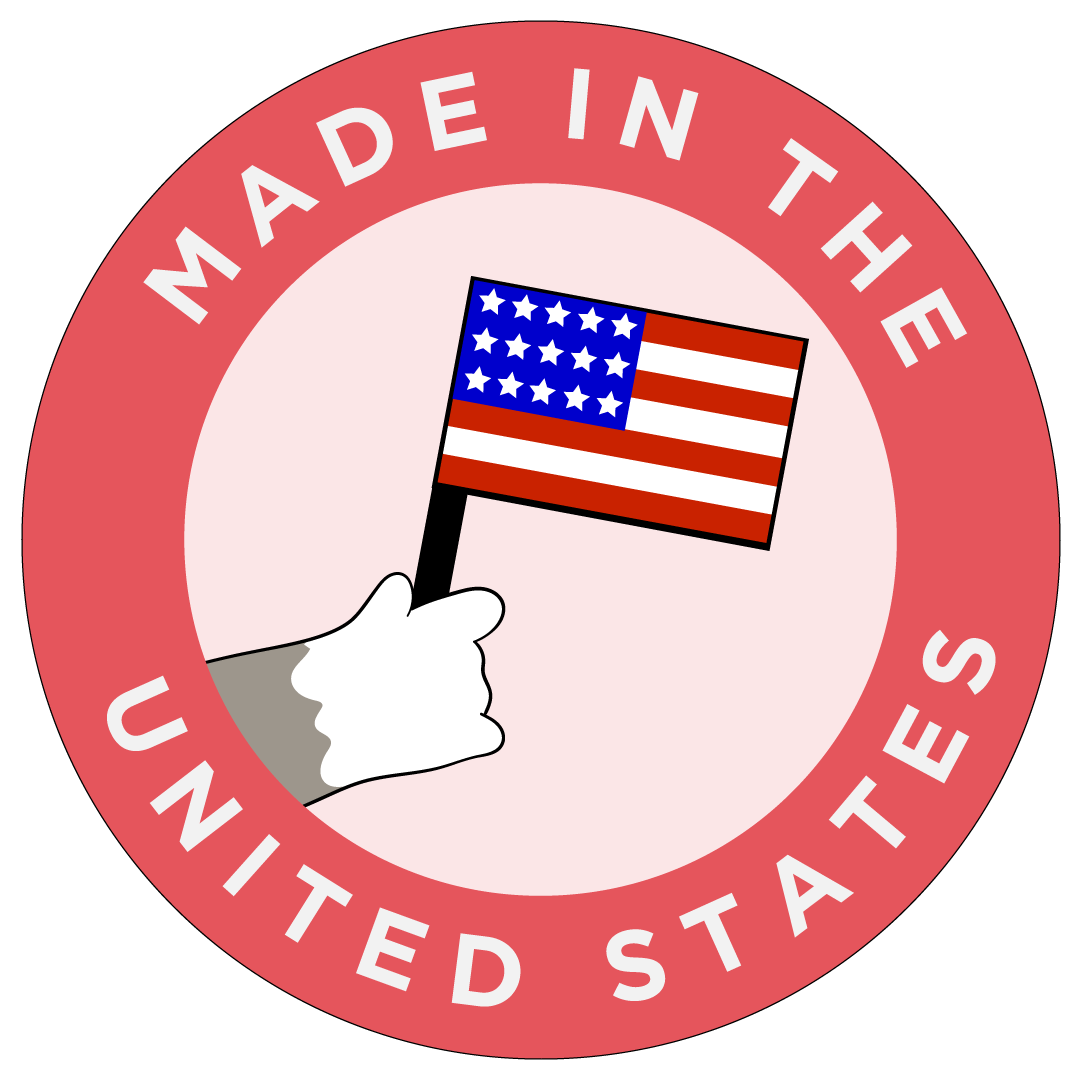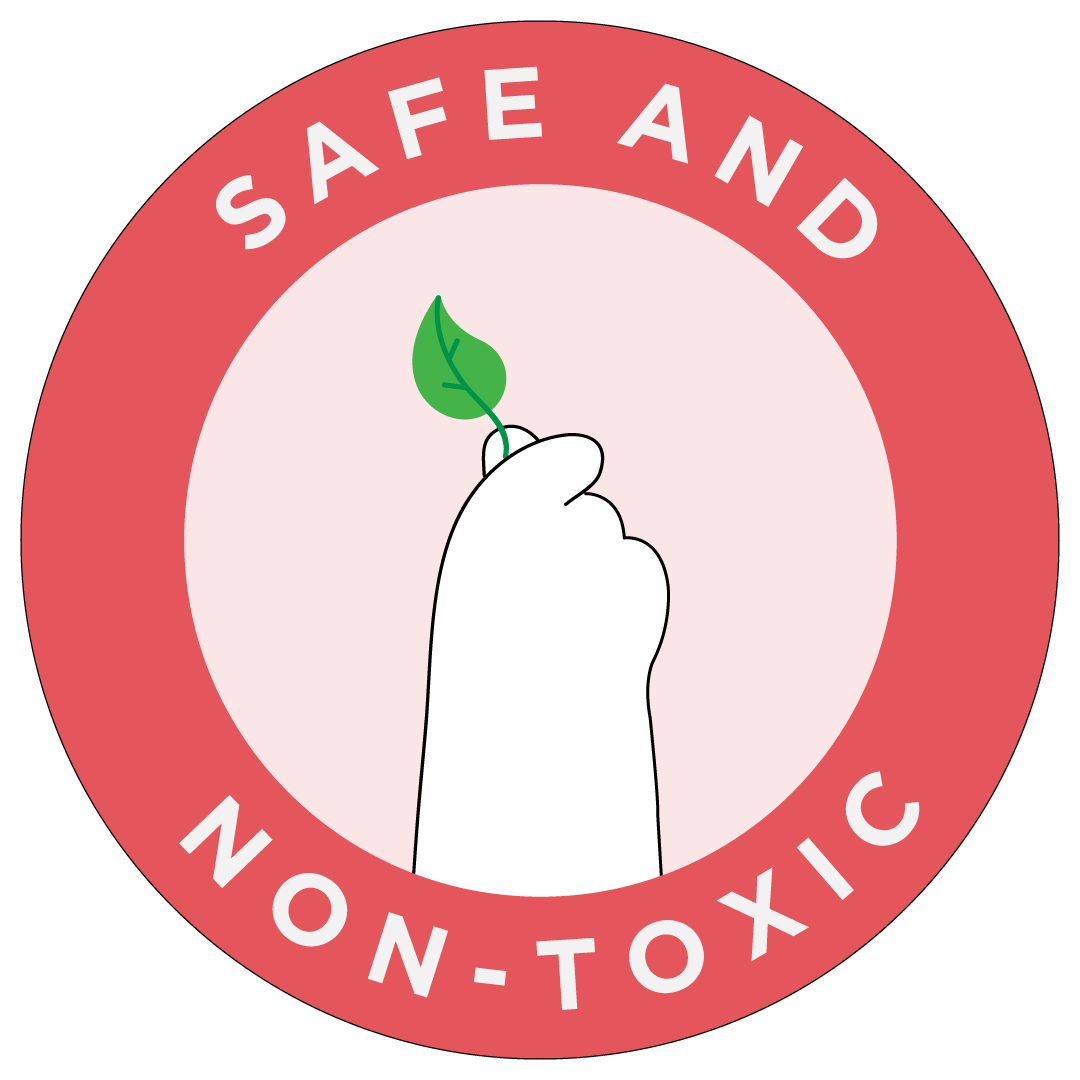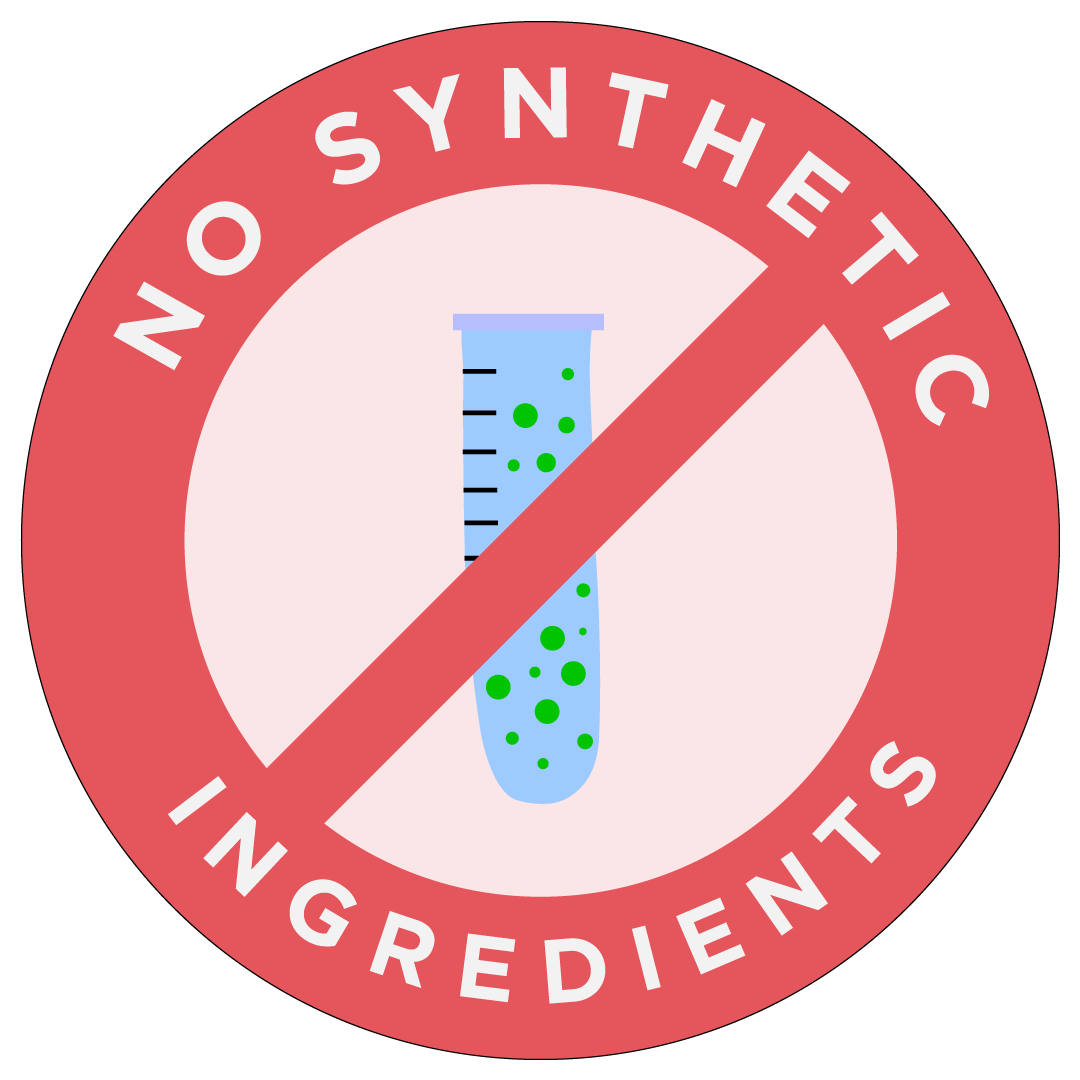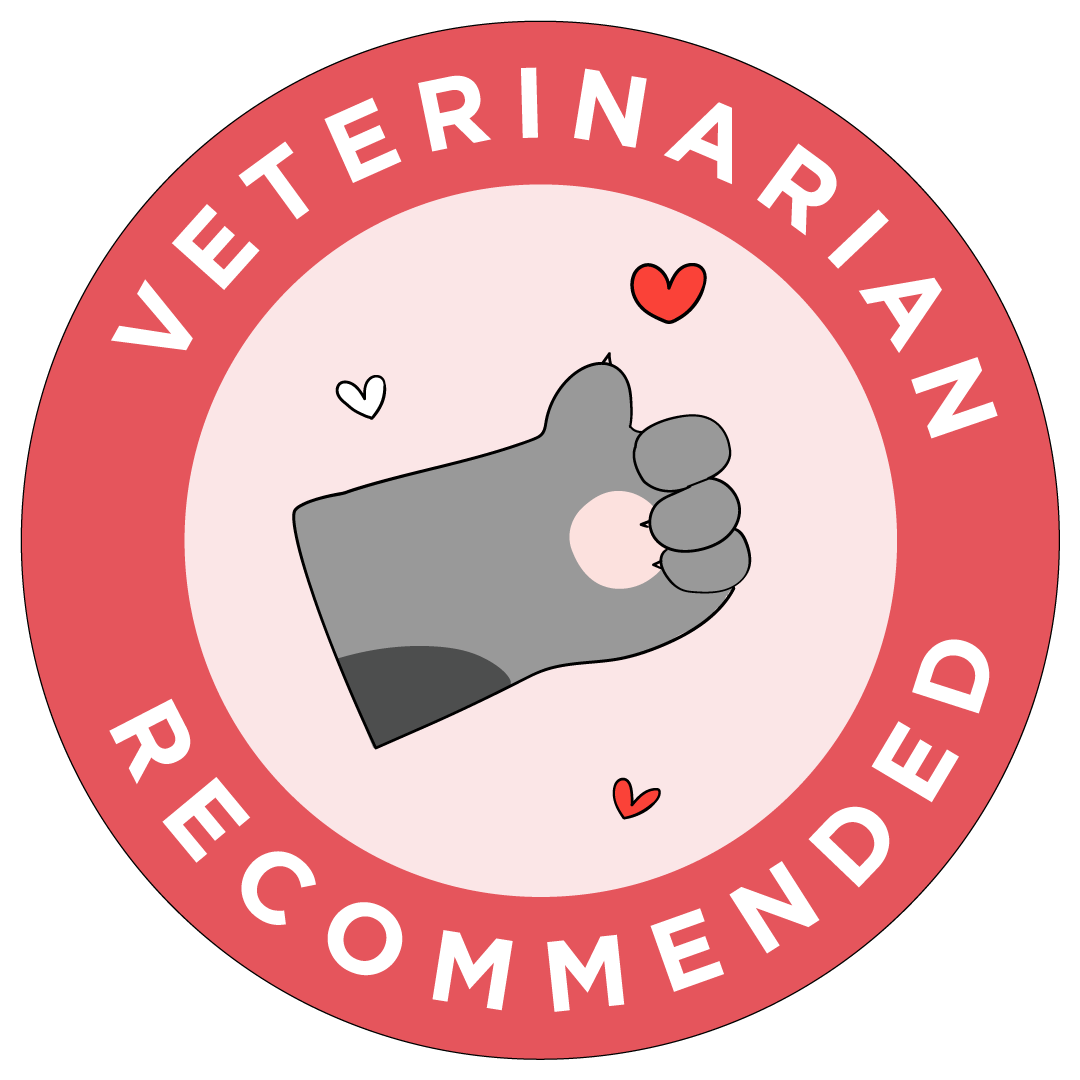 What makes HoneyCure different?
Be worry-free when it comes to healing your pet's wound, HoneyCure does not contain harmful chemicals or additives that could irritate your pet!

Your pet's wound will heal faster and scarring is reduced through the wet wound healing process of HoneyCure.

The medical-grade manuka honey that is used in HoneyCure destroys harmful bacteria, including antibiotic-resistant bacteria and it fights infection.

The properties of the manuka honey keep the wound clean and essential oils are added to aid in decreasing inflammation.

HoneyCure is the only 100% natural wound healing gel in the market that uses the healing powers of both essential oils and Manuka honey.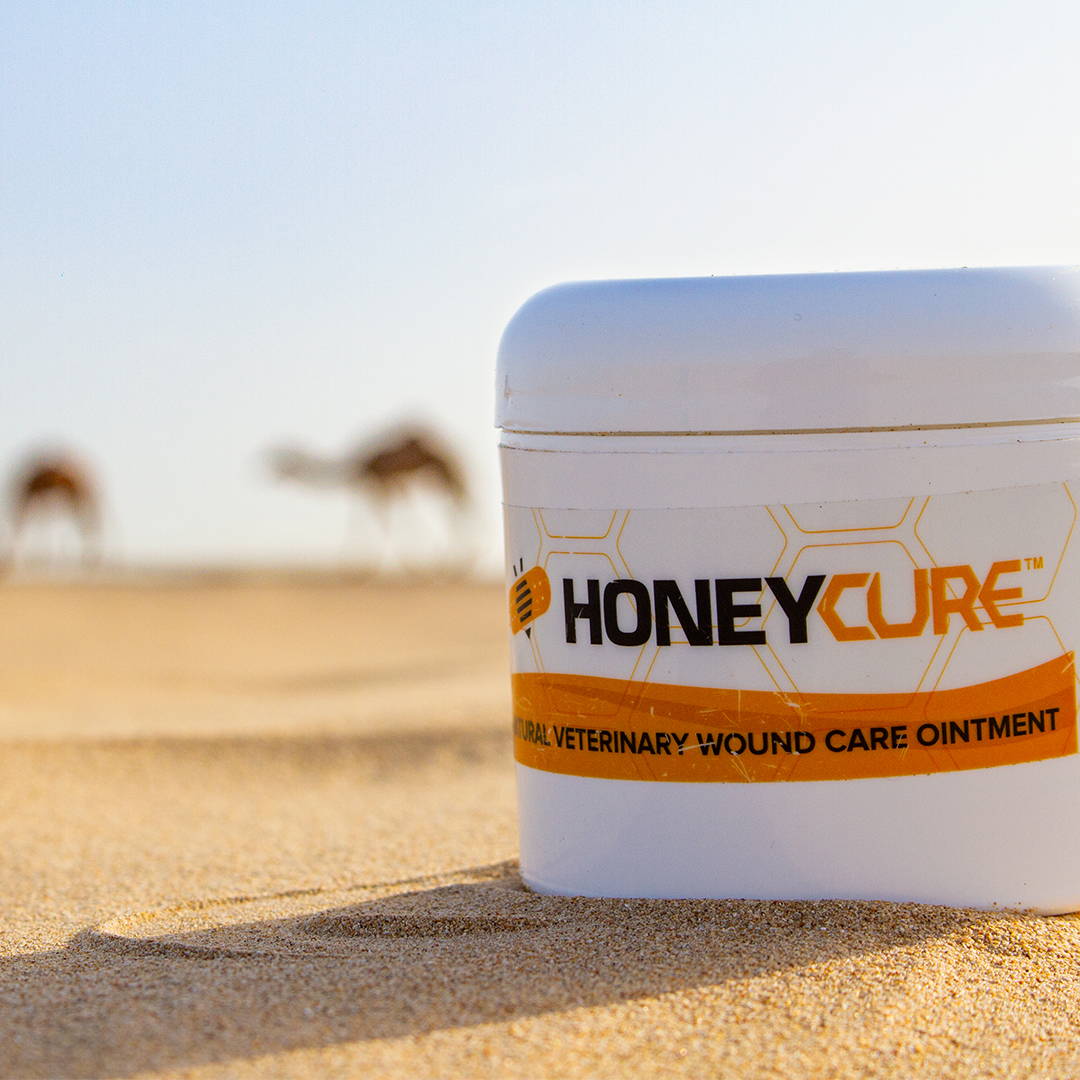 Why is Natural Wound Care important?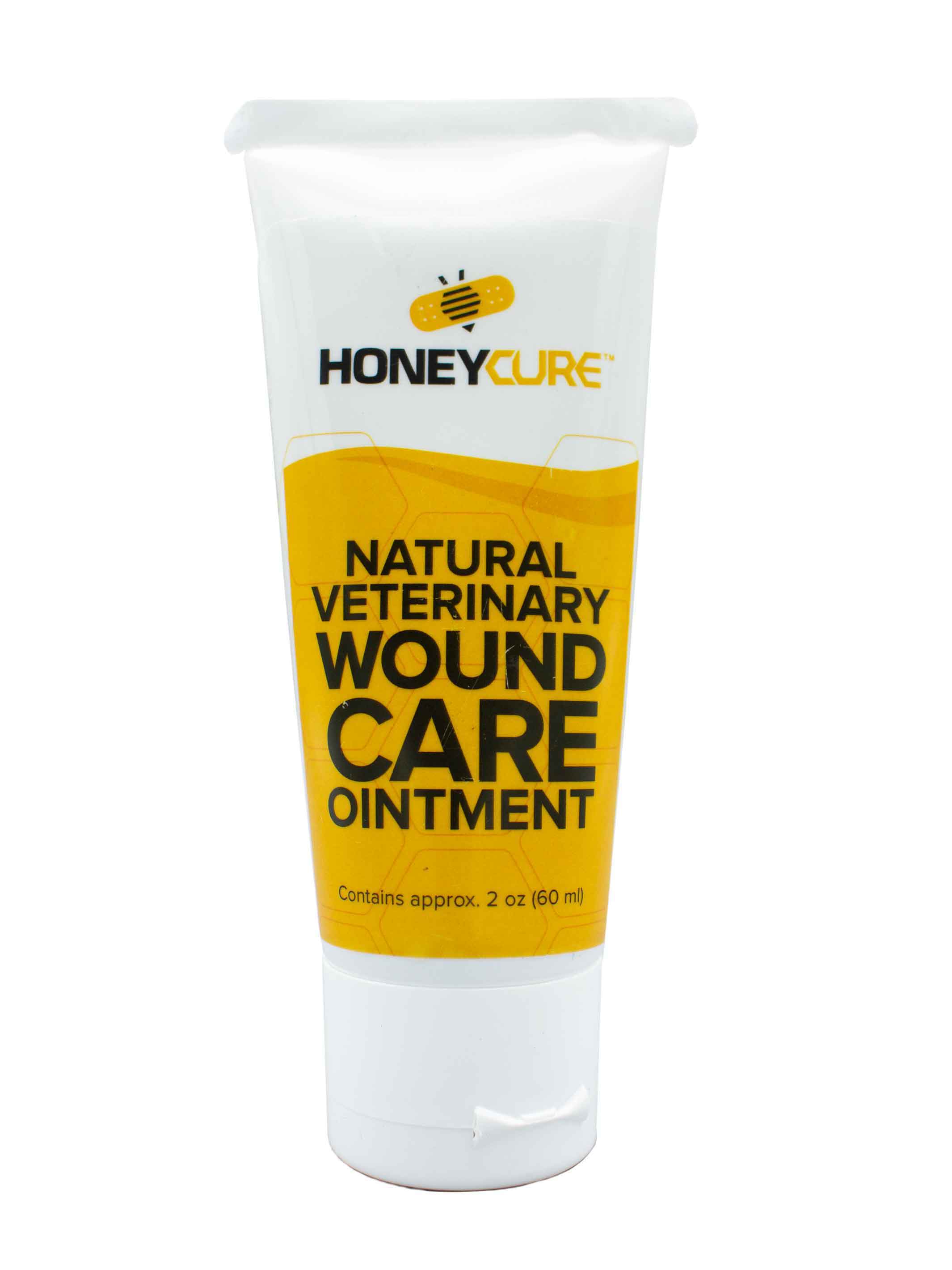 Natural wound care, but especially Manuka honey has been shown to be a more effective and faster healing aid that is also much safer to use on our animals.

Protect your pets overall health by using natural wound care products, and protect your pet from harmful side effects that may follow after using traditional medicated creams.

Widely sold antiseptic, antibacterial and similar creams can suppress your pet's immune system and do some long term damage to your pet's health.

Antibiotic ointments can promote the growth of antibiotic-resistant bacteria, clog up the pores of the skin, prevent the wound from breathing and make it inflamed.

Using all-natural wound care is an easy way to protect your pet's health long term!
Natural Gelling Agent, Medical-Grade Manuka Honey, Simmondsia Chinensis (Jojoba) Oil, Melaleuca Alternifolia (Tea tree) Oil
Stabilizes and thickens the cream for easy application without stiffness
Medical-Grade Manuka Honey
Manuka honey destroys harmful bacteria, including antibiotic-resistant bacteria and it fights infection.
Speeds up the healing process of your pets wound.
Reduces local inflammation and pain at the wound site and keeps the skin clean.
The Manuka Honey used in this product is called "Unique Manuka Factor" or UMF, which means that the honey is graded on a scale to signify the honey's quality.
HoneyCure has a UMF of 16+ or greater which is considered to be of superior-high-quality medical-grade.
Manuka honey has been used for centuries to treat a variety of conditions in medical practice. It is a particular type of honey which is only found in New Zealand where it is produced by a unique New Zealand bee.
Medical manuka honey is the only honey out there that is FDA-approved as medical grade. No harmful chemicals or additives!
Simmondsia Chinensis (Jojoba) Oil
Stimulates wound healing and encourages separated skin cells to bind together.
Antibacterial properties help fight bacteria in the wound.
Known as a great cleanser and moisturizer.
Melaleuca Alternifolia (Tea Tree) Oil
Reduces infections caused by bacteria and fungus
Relieves and soothes the skin
Acts as an antiseptic, and encourages wound healing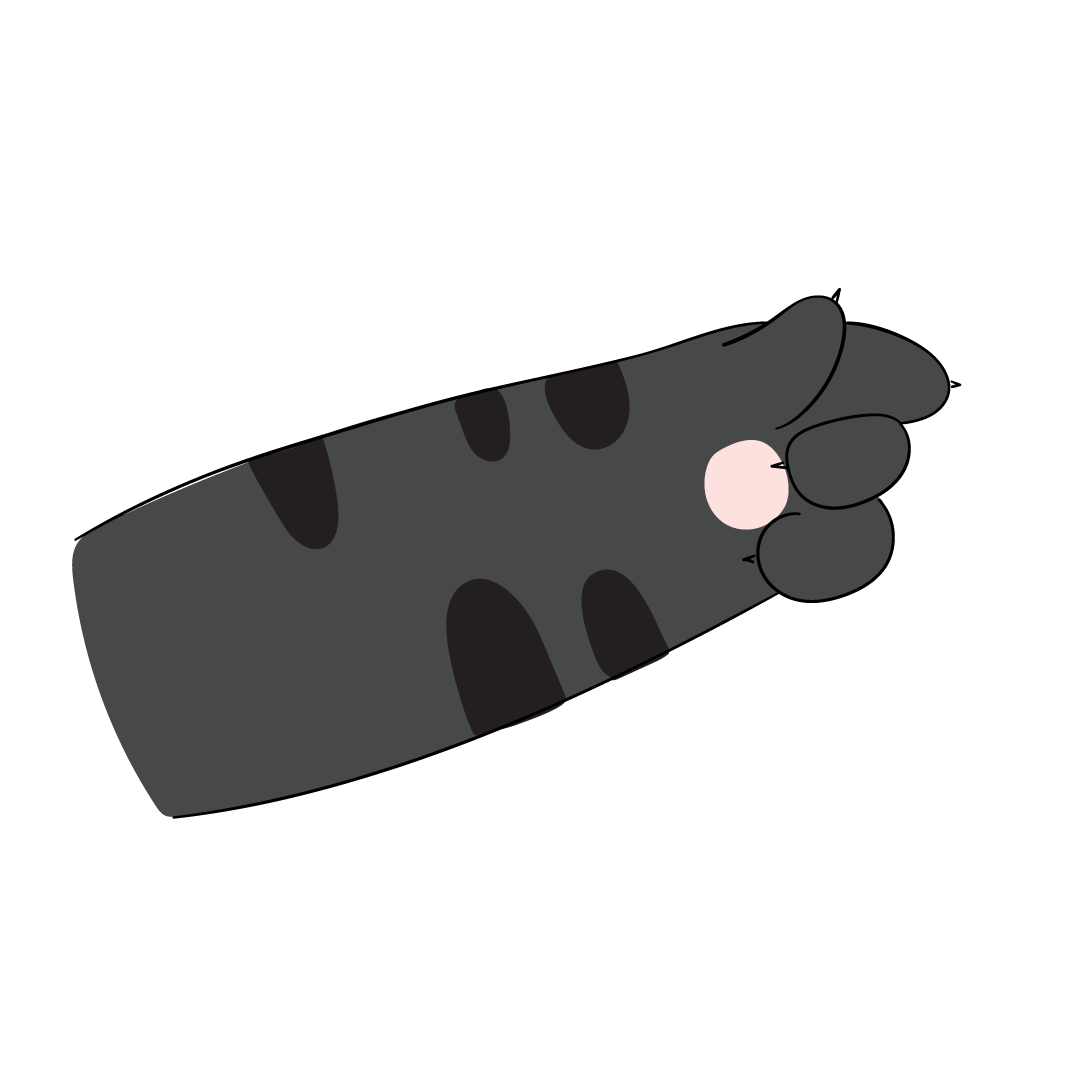 Apply HoneyCure as soon as your pet is injured.
If not treated, the risk of infection of the wound increases within the first few hours after the injury.
Check the wound and stop any bleeding. Please consult a veterinarian for serious wounds.

Clean the wound completely, any debris or dead tissue should be removed. You can give the wound a rinse with water or saline. Use a soft cloth and mild soap to clean around the wound.

Pat the wound dry with a soft cloth.

Stir the jar or shake the tube of Honeycure before applying.

Spread a thin layer on the injured area, making sure to completely cover the wound including about half an inch of healthy skin around it.

It is not required to cover the treated wound, but if your pet is very active or likes to rub or scratch their wound, then it is recommended to cover the wound.

In the first days, check the wound once every 6-12 hours and reapply HoneyCure to keep it moist.

Apply once every 1-3 days until wound is completely healed.
In an emergency situation, applying HoneyCure will immediately stabilize the condition of the wound and create a barrier from bacteria and any other potential environmental irritants, while you are on your way to the vet office.
This barrier will decrease the risk of infection while you are waiting for further medical care.
HoneyCure will stabilize and control the swelling and drainage, but some can be expected.
KNOW WHEN TO CONSULT YOUR VET!
If your pet's wound does not reduce in size after 5-7 days.

If your pet's wound is showing signs of excessive drainage or swelling after the first 24 hours.

For serious wounds, consult your vet immediately. HoneyCure may still be applied at your discretion.

If the wound is still bleeding after 10 minutes.

If the wound covers 20% or more of an extremity.

Trauma to the animal or symptoms including difficulty breathing, abdominal distention, seizures, profound weakness, profuse haemorrhage, repeated vomiting/diarrhea, not eating or drinking, severe pain, exposure to dangerous poisons.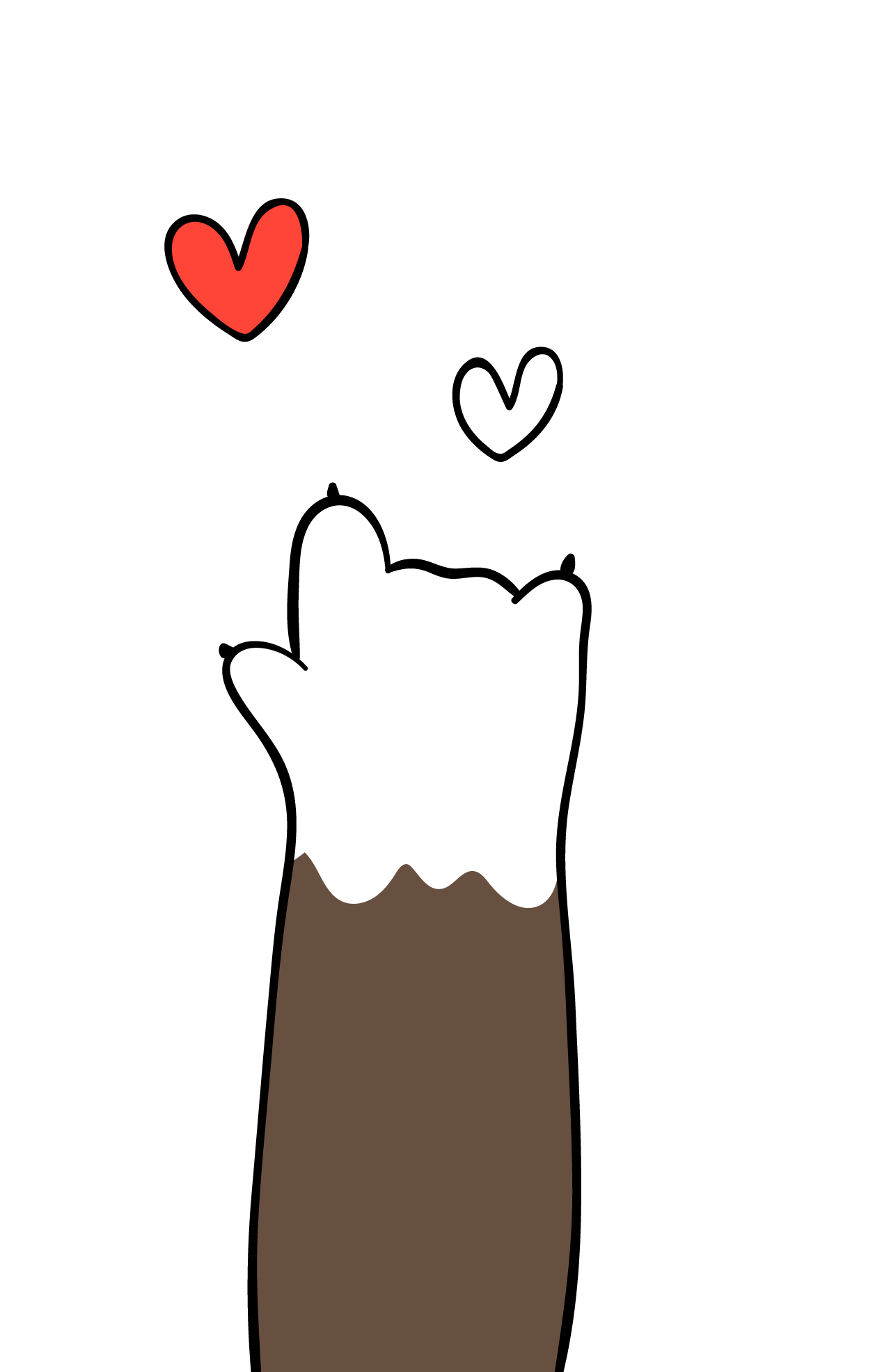 Frequently asked questions
what is the shelf life of honeycure?
Healing times are different and depend on the species of animal, type of wound and the severity of the wound.
Minor wounds should improve within 7 days while major wounds might take up to 45 days to heal completely. We recommend following the standard wound care protocol that is advised by veterinarians.
How should honeycure be stored?
Please store your HoneyCure in a dry and cool environment.
what if my pet licks the wound?
Most dogs and cats will not try to consume the HoneyCure as it is unappealing to them. If your pet still tries to lick the wound, we recommend covering the wound to prevent any complications.
HoneyCure was created by EnBiologistics, who are dedicated to advancing Health and Veterinary Care markets by creating high-quality and innovative care products.
It is their mission to promote better natural Veterinary care by introducing more effective, safer-to-use wound care products.
In 2018 we had the pleasure of meeting the founders of HoneyCure, Ramy Habib and Sean Caroll. We spent some time with them again in 2019 at a pet health expo in Chicago and got to know them better.
HoneyCure is a one-of-a-kind, all-natural hydrogel wound treatment. It is the only 100% natural wound healing gel in the market with both essential oils and Manuka honey included.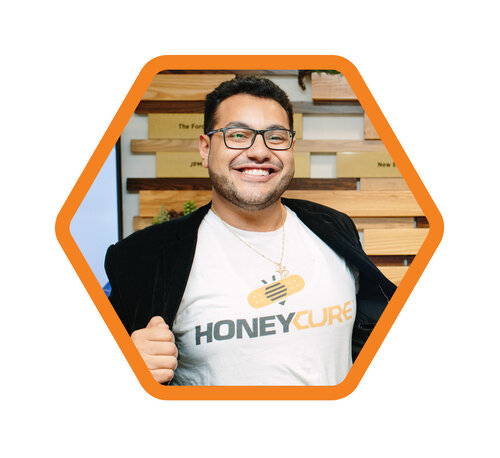 Ramy Habib is a Biomedical engineer who comes from a robust background in medical devices & natural healthcare. He grew up in Egypt and has long been familiar with using honey as a medicine, which helped spark the innovative product, HoneyCure.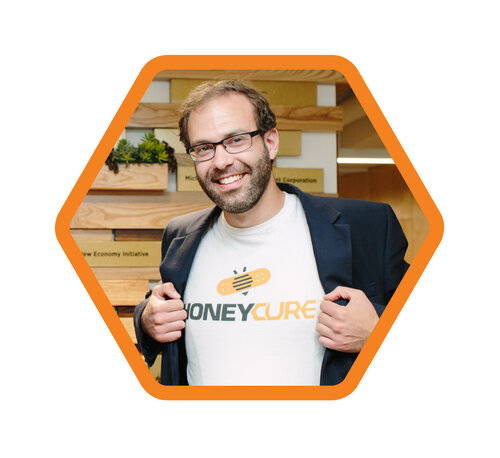 Sean Caroll is a young entrepreneur with a great drive and passion to invent and develop novel therapies in Health & Veterinary care. Sean is a fellow avid researcher and holds knowledge in the fields of Chemical and Biomedical Engineering.

Reason for purchase:
Open wound caused by medical negligence.
How this product helped::
Better healing. Thicker skin. Hair growth.
PAWDEGA Experience :
Super helpful as always.
Amazing! Life changing
My dog was unfortunately burned by a malfunctioning surgical machine during a routine operation at the vet. She had a wound that didn't ever heal 100%. Thanks to this product it is now healed and beginning to grow hair again. Amazing. Just so happy; finally we can put this horrible wound behind us.
Reason for purchase:
She has wound on her ear
How this product helped::
Wound dried up the next day
PAWDEGA Experience :
Very accomodating with my question
Amazing Honey cure
My furbaby has infected wound on both her earflap, and it was not healing because she keeps on scratching them. I encounter Pawdega and found the woundcure from HoneyCure, in just applied them 1-3 times the next day the wound are all dried up and now her wound just dissappeared, I highly recommended this Honeycure.
Thank you Meryll for sharing your journey with us! We are so thankful to hear how happy you are with our products and services and that we were able to help! So happy to hear your fur baby is feeling better now. We wish her lots of health and continued improvement!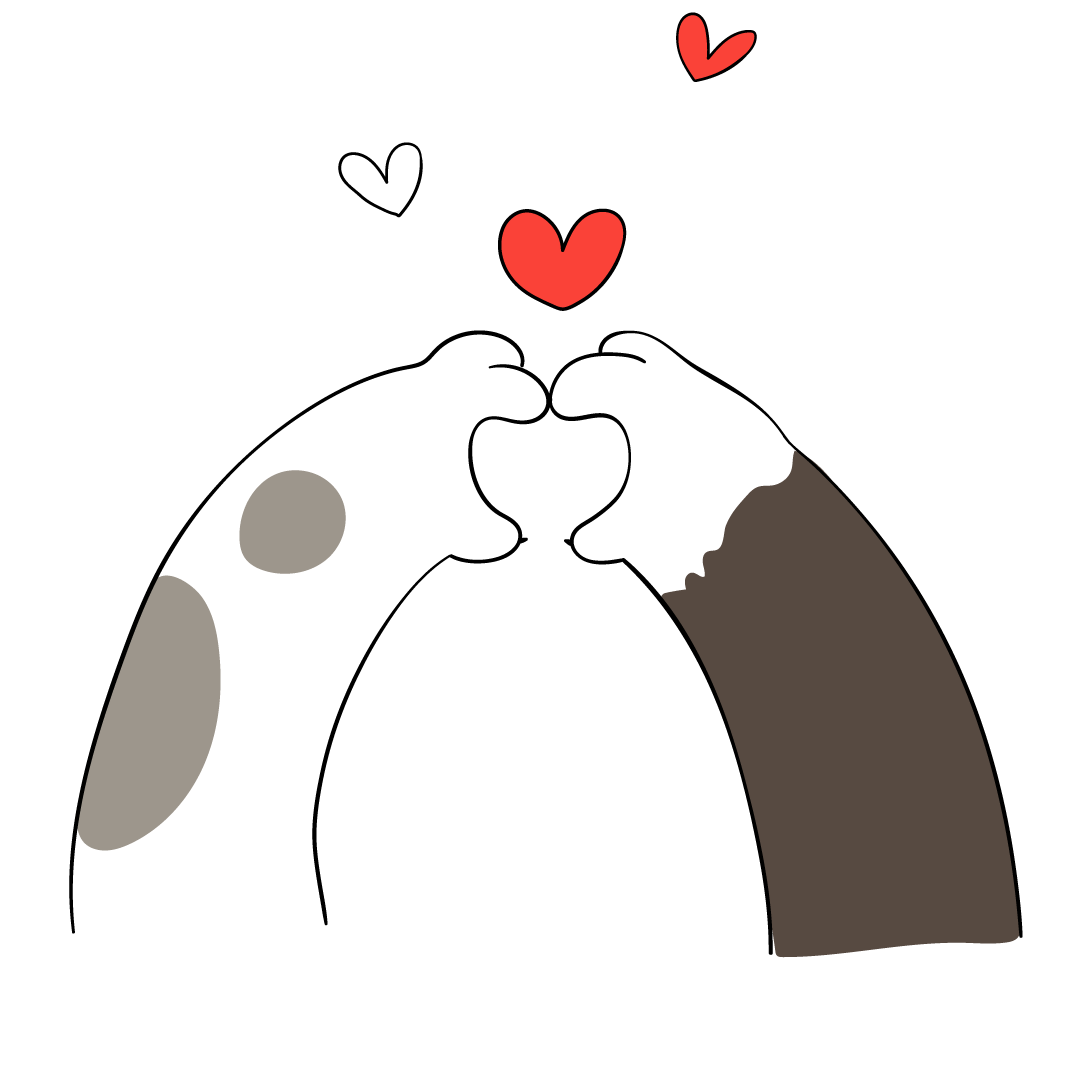 BE Worry-free with truly natural pet products!